Hani Bagheri (Postdoctoral Fellow)
Hani completed his undergraduate training and master's degree in the United Kingdom (bachelor's degree at the University of Leicester and master's degree at the University of Oxford) before completing his graduate studies under the mentorship of Dr. Evica Rajcan-Separovic at the University of British Columbia in Vancouver, Canada. During his PhD, Hani studied the contribution of germline genomic alterations to congenital anomalies. In the Bandopadhayay Lab, Hani is studying the mechanisms through which somatic driver alterations drive the formation of pediatric brain tumors and how these can be therapeutically overcome.
Fun fact: Hani fractured his skull twice when he was 5 from jumping on his parents' bouncy bed and banging his head against the wall. Now as a grown-up Hani still has the temptation of jumping on beds—especially when he finds himself in hotel rooms with nice beds.
Adam Boynton (Postdoctoral Fellow)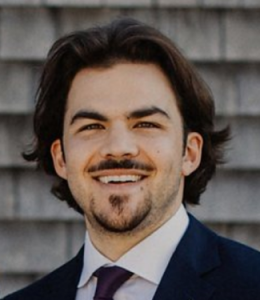 Adam received his BS with honors in chemistry from Trinity College ('12), where he worked in the lab of Dr. Tim Curran exploring the coordination of tungsten to diphenylacetylene ß-turn peptidomimetics. He then pursued a PhD in chemistry at Caltech ('17) under the mentorship of Dr. Jackie Barton. While at Caltech, Adam studied luminescent ruthenium complexes that function as "light switch" probes for DNA mismatches. Adam is currently studying approaches to therapeutically target cancers that harbor mutations in the Mismatch Repair pathway.
Fun fact: Adam's passions expand beyond the lab and include weightlifting, hot yoga, singing a cappella, heading to the ballpark for a game, and visiting craft breweries.
Graham Buchan (Research Associate)
Graham received his BA with honors in biology from Williams College. As an undergraduate researcher, Graham studied the genetic link between dopamine signaling and arousal state in Drosophila. Graham was also the varsity captain of the Williams College men's crew rowing team. In the Bandopadhayay Lab, Graham is characterizing the mechanism through which fusion proteins contribute to the formation of pediatric low-grade gliomas.
Yohanna Georgis (Undergraduate student)
Yohanna is an undergraduate student at Tufts University. She is currently studying PPM1D as a therapeutic target for DIPG. She is specifically interested in the effects of a truncating mutation in PPM1D as a contributor to cellular resistance to treatment, and in determining if this mutation in PPM1D is oncogenic in DIPG.
Fun fact: Yohanna and Beyoncé share a birthday.
Elizabeth (Eli) Gonzalez (Research Associate)
Eli majored in molecular and cell biology at the University of Pennsylvania and is originally from Miami, Florida. She aspires to be a physician scientist and join the efforts to discover better treatments for rare pediatric cancers. As a research assistant in the Bandopadhayay Lab, Eli is developing strategies to uncover genomic dependencies of pediatric brain tumors. She is also interested in science diplomacy, particularly collaborations on cancer research between the US and Cuba.
Fun fact: Eli loves to snorkel, and her favorite animal is a Yellowtail Damselfish.
Tricia Ho (Research Associate)
Tricia received her BA from Williams College, where she majored in biology and music. For her undergraduate thesis, she studied the effect of sublingual immunotherapy on lung tissue-resident T cells in allergic asthma. She currently researches mechanisms of drug resistance in pediatric brain tumors.
Fun fact: Tricia plays cello and piano. Fun musical moments have included a play where she was stranded alone with her cello on a stairless platform for three hours, an orchestra rehearsal briefly attended by Sting, and a wedding proposal at the top of a hill that almost happened until bad weather occurred.
Prasidda Khadka (Graduate student)
Prasidda received his BA in biology and biochemistry from Carleton College in Northfield, Minnesota, before joining the BBS PhD program at Harvard University in 2016. In the Bandopadhayay Lab, Prasidda is currently studying the role of PPM1D mutations in the pathogenesis of Diffuse Intrinsic Pontine Glioma (DIPG). Prasidda is co-mentored by Drs. Bandopadhayay and Beroukhim.
Zach Reitman (Postdoctoral Fellow)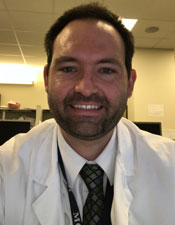 Zach was born in Glenmoore, Pennsylvania (outside Philadelphia). He studied biochemistry and molecular biology at Penn State ('06), and then pursued an MD/PhD at Duke University in Durham, North Carolina ('14). At Duke, Zach earned his PhD under the mentorship of Professor Hai Yan on research in the Tisch Brain Tumor Center revolving around gliomas and cancer-associated mutations in IDH1, TERT, PPM1D, ATRX, and several other very interesting genes. His research aimed at better classifying cancers to select appropriate treatments, and on identifying targets for new therapies for these brain tumors. Zach then spent a year in Baltimore at Union Memorial Hospital doing a preliminary year in internal medicine. He is now specializing into radiation oncology as a resident in the Harvard Radiation Oncology Program ('19). Zach aims to pursue a career as a physician-scientist, and sees himself treating patients with radiation therapy in the clinic while looking for ways to better understand the enemy (cancer) and improve the standard of care in the lab. Zach is co-mentored by Drs. Bandopadhayay and Beroukhim.
Fun fact: When he is not pipetting or fielding pages, Zach enjoys cycling, hiking, microbrewed beer, and Penn State and Philadelphia Eagles football. He likes spending time with his wife, Denise, and their two cats, Wink and Arya.
Travis Zack (Medical Student)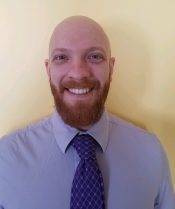 Travis is currently a final year medical student in the Harvard and MITs Health Sciences Technology program. Raised in Hawaii, Travis completed his undergraduate studies at UC Berkeley, double majoring in Physics and Integrative Biology. He then went on to complete his PhD in the Biophysics program of Harvard University under the mentorship of Dr. Beroukhim, focusing on uncovering new cancer vulnerabilities predicted by copy number alterations using computational genomics. Travis is currently completing his MD thesis in the Bandopadhayay lab, contributing to efforts to characterize the landscape of structural variants in pediatric High-grade Gliomas and Diffuse Intrinsic Pontine Gliomas. After graduating, Travis hopes to continue to contribute to the field of oncology as a physician-scientist.
Fun fact: In his free time, Travis is an avid hiker and amateur gardener.