April Apfelbaum (Postdoctoral Fellow)
April received her BS in Cellular and Molecular Biology from Beloit College in 2017, where she worked in the lab of Dr. Amy Briggs studying the role of fpgs genes in Arabidopsis thaliana. She then obtained her the PhD from Cancer Biology PhD program at the University of Michigan in 2022. Working under the mentorship of Dr. Beth Lawlor, April focused on understanding how hijacking of normal developmental pathways lead to heterogeneity and cell state plasticity in Ewing sarcoma. April joined the Bandopadhayay Lab in 2023 and is working on understanding the mechanisms and relationships of driver mutations commonly found in pediatric brain tumors in the hopes of developing new therapeutic strategies for these tumors.
Fun fact: April does not drink coffee or tea (which perplexes Mimi) and loves milk and the whole lab likes to make fun of her for it. She also loves Michigan sports (maybe too much!) and Mimi is determined to introduce her to cricket and Aussie footy (AFL).
Sher Bahadur (Research Associate)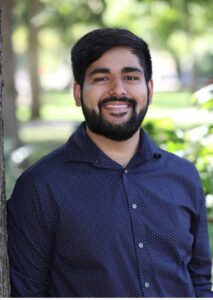 Sher was born and raised in Rawalpindi, Pakistan and moved to the United States for his undergraduate studies. He received his BS in Biochemistry and Molecular Biology in 2022 from Dickinson College in Carlisle Pennsylvania. During his time at Dickinson, Sher worked in Dr. Michael Roberts' lab, investigating gene targets for potential Acute Myeloid Leukemia therapies. For his honors thesis, Sher characterized the role of the MAPK/ERK signaling modulator SPRY2 in regulating the transcriptome of the HL-60 Acute Myeloid Leukemia cell line. Sher is now contributing to efforts to characterize FGFR alterations in pediatric gliomas, and to develop methods to optimize TP53 reactivation in Diffuse Midline Gliomas.
Fun fact: In his native language of Urdu, Sher's full name translates to "lion/tiger brave". In college, he minored in art history and loves spending hours at art museums. Sher also loves watching European football and is a die-hard Chelsea football club fan.
Michelle Boisvert (Graduate Student)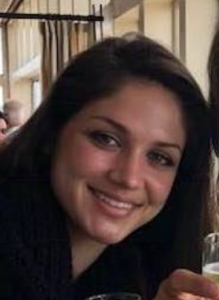 Michelle is a graduate student in Harvard's Biological and Biomedical Sciences PhD Program. She received her BA in Molecular and Cell Biology from the University of California, Berkeley in 2019. There, she studied the oncogenic role of certain signaling molecules in the Hedgehog signaling pathway, and became extremely interested in advancing cancer therapy research. In the Bandopadhayay Lab, Michelle is interested in using computational efforts to better characterize pediatric brain tumors.
Fun fact: Michelle is a huge Stephen King fan. She also loves sleeping in, making guacamole, and reading about art history.
Anna Borgenvik (Postdoctoral Fellow)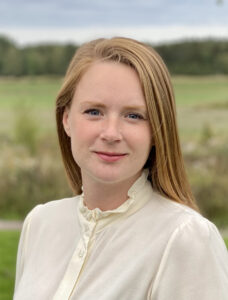 Anna developed a fascination for cancer biology while working towards her bachelor's degree at Lund University, Sweden. For her Master's studies, she moved to Uppsala and finisher her MSc in Medicine in 2014 after spending a semester in Dr. Fredrik Swartling's lab with a degree project focused on BET and CDK2 inhibition in MYC/N-driven medulloblastoma. She immediately transitioned into a PhD program, still working with Dr. Swartling to continue her work on mouse models and medulloblastoma treatments. In October 2021, Anna defended her PhD thesis (and Mimi had the honor of being her faculty opponent!!). Anna moved to Boston in 2022 to continue her career as a scientist focused on pediatric neuro-oncology and hopes to make a difference for the young patients affected by this diverse group of devastating diseases. In the Bandopadhayay Lab, Anna will be expanding her skills to apply genomic approaches to understand the mechanisms through which gliomas develop, and to develop strategies to overcome therapeutic resistance.
Fun fact: Anna is a gardening nerd on hold, as she does not have a garden in Boston. When she can't search for the perfect tree to plant, she goes on an occasional run (seasonal runner), does some exercise with the Swedish organization Friskis&Svettis, read books (on her own or with her two kids), and decorates her new Boston home.
Kelly Cai (Research Associate)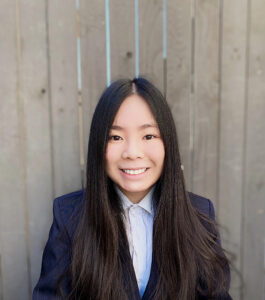 Born in Taishan, China and raised in California, Kelly completed her undergraduate studies at the University of California, Los Angeles where she graduated with a BS in Molecular Cell Developmental Biology ('23). During her scientific journey, she completed a co-op at Moderna, where she worked on developing cell-based immunoassays to better understand the innate immune activation pathways in response to mRNA and DNA based therapeutics. She also worked in the Jonas Lab, a pediatric hematology oncology-based research group, where she contributed to the development of a new cell transfection method called filtroporation. Despite being terrified of New England winters, Kelly moved across the country to join the Bando Lab for the next installment of her science career. She is excited to be applying single cell sequencing and CloneSifter barcoding technologies in the Bando Lab to better characterize pediatric brain cancers and different modes of drug resistance within tumors.
Fun fact: In her free time, Kelly can be found exploring local climbing gym, running along the esplanade, or perusing the aisles of Trader Joe's.
Seung Hyun 'Riley' Choi (Research Associate)
Riley was born and raised in Seoul, South Korea, and moved to the U.S when she was 11 years old. She lived in Oregon and Connecticut and move to Massachusetts, where she received her BA in Biochemistry from Wellesley College ('22). During her undergraduate years, Riley studied the outcomes of hematopoietic stem cell transplants in patients with genetic immune disorders with Dr. Jennifer Whangbo and Dr. Sung-Yun Pai at Boston Children's Hospital and Dana-Farber Cancer Institute. Riley is currently working to understand genetic and epigenetic mechanisms of resistance in brain tumors, focusing on resistance to BET-bromodomain inhibitors and vulnerabilities induced by loss of mismatch repair proteins.
Fun fact: Riley chose her English name when she moved to the U.S because it means 'courage'. During her free time, Riley enjoys watching documentaries, cooking Korean food, and visiting cafes to drink iced vanilla latte.
Jared Collins (Computational Scientist)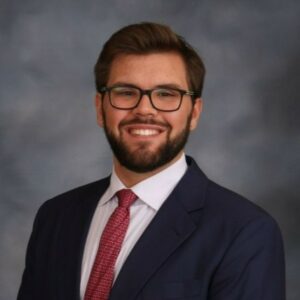 Jared was born and raised in Atlanta, GA where he received his BS and MS in Biology from the Georgia Institute of Technology ('23). During his time at Georgia Tech, Jared worked in the lab of Greg Gibson, where he studied the etiology of SLE and Crohn's Disease. For his Master thesis, Jared explored coherence and incoherence between GWAS and eQTL in Crohn's Disease. Jared is excited to live in Boston and join the Bandopadhayay Lab's mission to find better treatments for children with brain tumors.
Fun fact: Jared is a baseball fan is is looking forward to watching Red Sox games at Fenway – although he will still root for the Braves when they visit!
Marissa Coppola (Research Associate)
Marissa received her BS in Biochemistry and Molecular Biology from UMass Amherst in 2022. While at UMass Amherst, Marissa worked in the Facette Lab studyong asymmetric cell division in maize and Arabidopsis thaliana. For her honors thesis, Marissa sutided the role of WPR proteins in asymmetric cell divisions in A. thaliana roots. In the Bandopadhay Lab, Marissa is working to study drivers of Diffuse Midline Gliomas, including the mechanisms through which MYC isoforms are activated. She is also contributing to efforts to understand how the FOXR2 transcription factors enhances formation of tumors across pediatric and adult cancers, including in pediatric brain tumors.
Fun fact: In her free time, Marissa loves to go on bike rides, do yoga and walk her dog. She also loves bagels and is always on the hunt for the best bagel.
John Jeang (Computational Scientist)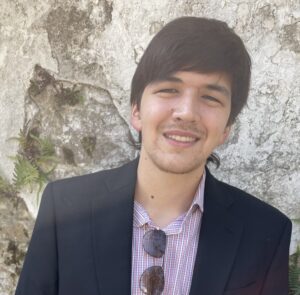 John spent his entire life in Rockville, MD until college when he moved to Claremont, CA to earn his B.S. in Physics. For his senior clinic project, John worked with HRL Laboratories to create an algorithm for electrostatically tuning quantum dots using neural networks for quantum computers. Before joining the Bando Lab, John worked as a High Frequency Trader. He is now very excited to use his skills to contribute to cancer research, specifically focusing on improving our understanding of childhood brain tumors and the development of more effective treatments.
Fun fact: Almost all of John's socks are Christmas themed!
Adam Kebede (Postdoctoral Fellow)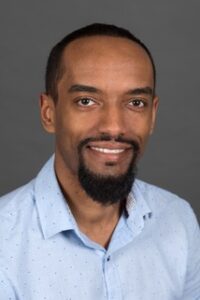 Adam grew up in Ethiopia and moved to Bremen, Germany where he received his B.Sc and M.Sci in Biochemistry and Cell Biology from Jacobs University which was his very first exposure to the exciting field of epigenetics. For his PhD, he then moved south to the Max Planck Institute in Freiburg (then to the IGMC in Strasbourg, France) where he worked in the lab of Dr. Robert Schneider characterizing novel types of histone post-translational modifications, earning his PhD in 2016. Adam then moved to Boston for his postdoc in the lab of Dr. Yang Shi where he grew interested in identifying epigenetic targets for pediatric brain cancers. In the Bando Lab, Adam is studying how alterations in chromatin factors lead to pediatric gliomagenesis with the ultimate goal of discovering novel therapeutic approaches.
Fun fact: Outside the lab, Adam is an avid soccer fan and enjoys watching the English Premier League. He can also be found doing crossword puzzles at odd hours.
Leslie Lupien (Postdoctoral Fellow)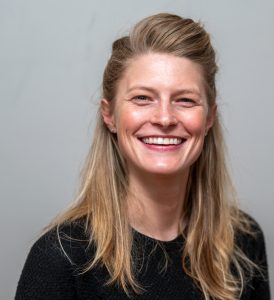 Leslie received her BA in Biological Sciences from Assumption College in 2010, before moving on to complete her PhD in the Program in Experimental and Molecular Medicine at Dartmouth College. In the lab of Dr. William Kinlaw, Leslie studied lipid metabolism in breast cancer cells. Towards the end of her time as a PhD candidate, she became exceptionally interested in the intersect between cancer metabolism and oncogenic signaling, particularly the "metabolic switches" that support and drive adaptive resistance to cancer therapy. In the Bandopadhayay Lab, Leslie has been able to combine her background in cancer cell metabolism with genomic, transcriptomic and gene editing approaches to understand the biology of pediatric brain tumors and elucidate mechanisms of resistance to targeted therapies such as BET-bromodomain inhibition. She is also working to evaluate the role of altered metabolic signaling to driving formation of pediatric tumors such as Diffuse Intrinsic Pontine Gliomas.
Fun fact: Leslie played basketball through college and is now an avid cyclist. She also enjoys amateur photography.
Jens Maile (Graduate Student)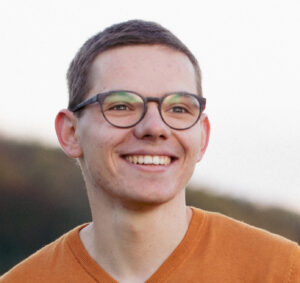 Jens received his BS in Molecular Medicine from the University of Tubingen Germany in 2021, where he studied synthetic lethal interactors of mTOR inhibition in glioblastoma in the labs of Prof. Ghazaleh Tabatabai and Dr. Daniel Merk. As part of his bachelor's program, he joined the group of Prof. Tony Kourzarides at the University of Cambridge in 2019 as a visiting undergraduate student to investigate the role and pharmacological inhibition of histone acetyl transferases in leukemia. Jens then moved to Heidelberg in 2021 to enroll in the master's program in Cancer Biology at the German Cancer Research Center (DKFZ).
Jens joined the Bando Lab in 2023 as a visiting graduate student to understand how distinct histone mutations influence gliomagenesis and also aims to exploit the dependence of pLGGs on the MAPK pathway. Jens is co-mentored by Dr. David Jones at the DKFZ.
Fun fact: One of the first things Jens did when he arrived in Boston was to buy a bike. He also enjoys playing handball and online chess.
Lilia Olmstead (Graduate Student)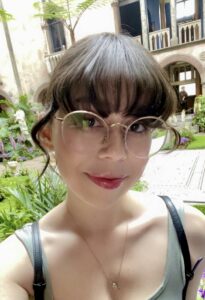 Lilia was born and raised in El Paso, Texas. She received her Bachelors degree in Cellular and Molecular Biochemistry from the University of Texas in El Paso in 2021. During her time at UT El Paso, she worked on HIV-1 and Flaviviruses in Dr. Mauel Llano's Lab. Lilia was a MARC Scholar and completed her undergraduate thesis characterizing proteins implicated in viral replication. Lilia is now a Harvard BBS Student. She is completing her PhD in the Bando Lab where she is developing and applying computational approaches to study structural variants and discover new targets for Atypical Teratoid Rhaboid Tumors, a devastating brain tumor than occurs in infants and young children.
Fun fact: Lilia knows how to play five instruments! These include the flute, violin, guitar, ukulele and the piano. She also enjoys keeping active and going to art museums.
Nico Poux (Graduate Student)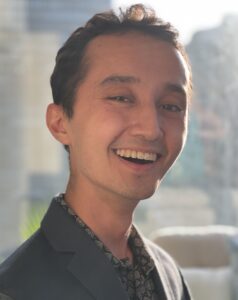 After being spoiled with daily access to baguettes, Nico's family decided to move from Paris to the San Francisco Bay Area in 2010, where the sourness of the bread would provide him an opportunity for real character growth. As a leukemia survivor, Nico developed an early interest in cancer biology. He received his BS in Biology from Stanford in 2019 and did his undergraduate research in Irving Weissman's lab, developing fluorescence-based tools for lineage tracing. Nico joined the MIT-Harvard MD/PhD program in 2020 to pursue a career in Pediatric Oncology and became a Bando Lab member as a BBS PhD student in 2023. Nico is thrilled to leverage molecular biology techniques to better understand mechanisms of pediatric brain tumor growth and maintenance.
Fun fact: Despite holding the Poux family record for the largest number of mosquito bites in a single night (63!), in the 12 years since receiving his bone marrow transplant, Nico has only been bitten once by a mosquito. He is proud to have exacted revenge on the mosquito that broke his bite-less streak.
Jessica 'Jess' Tsai (Postdoctoral Fellow)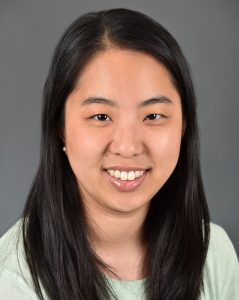 Jess received her BS in Biological Sciences with Honors in Neurobiology at Stanford University in 2008 before joining the Medical Scientist Training Program at Stanford University School of Medicine, receiving her MD and PhD in 2015. Jess earned her PhD in Neuroscience working in the laboratory of Dr. Thomas Clandinin, utilizing the Drosophila visual system and forward genetics to study synapse development and axon degeneration. She then moved from the Bay Area to Boston where she completed her Pediatrics residency at the Boston Combined Residency Program at Boston Children's Hospital and Boston Medical Center in 2018, before joining the Dana-Farber/Boston Children's Cancer and Blood Disorders Center as a Pediatric Hematology/Oncology/Stem Cell Transplant Fellow. Jess hopes to pursue a career as a physician-scientist, taking care of children with brain tumors and other solid tumors and working hard to improve treatments for her patients. In the Bandopadhayay Lab, Jess is applying genomic approaches to optimize novel treatment approaches for pediatric brain tumors, and is also working to characterize the role long non-coding RNAs play in the formation of Diffuse Intrinsic Pontine Gliomas. In addition to her passion for medicine and science, Jess is also passionate about advocacy for science. She is the Co-Director of Research for a non-profit, the STEM Advocacy Institute, which is focused on building a future where there is equitable access and exposure to science for all people.
Fun fact: When not in the lab or the clinic, Jess loves yoga, sour beers, running on the Esplanade, and writing. She makes a mean pour over coffee, and her favorite animal is a tie between a sloth and a quokka.
Kee Kiat 'Aaron' Yeo (Affiliated Faculty)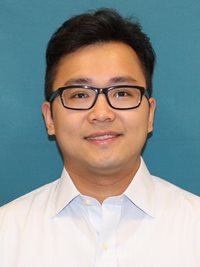 Aaron was born and raised in Kuantan, a small beach town on the east coast of peninsular Malaysia. He went to college in Malaysia before moving to Philadelphia. Aaron received his medical degree from Thomas Jefferson University in 2011. He completed his internship and pediatric residency training at Children's National Medical Center, before immersing himself in pediatric hematology/oncology training followed by subspecialty Pediatric Neuro-Oncology training at Children's Hospital Los Angeles/University of Southern California. Aaron is an Attending Pediatric Neuro-Oncologist at the Dana-Farber/Boston Children's Cancer and Blood Disorders Center.
Alexander 'Alex' Zhang (Research Associate)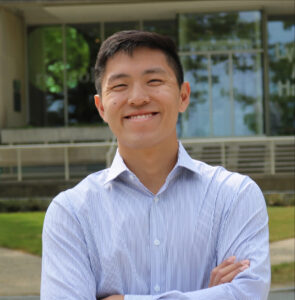 Alex received his BS in Biology and a minor in business in 2023 from Brandeis University in Waltham, Massachusetts. While at Brandeis, he worked in Dr. Avi Rodal's lab and studied the effects of valency and the cellular environment on liquid-liquid phase separation using Drosophilia endocytic proteins. In the Bando Lab, Alex is working to identify novel genetic dependencies in pediatric low-grade gliomas, and to optimize efficacy of small-molecule MAPK pathway inhibitors across pediatric gliomas.
Fun fact: Alex likes taking long walks, working out, and climbing so he can eat more food.
Daren Zhang (Research Associate)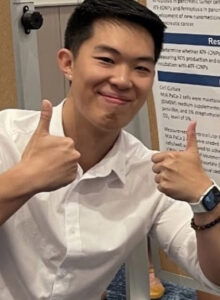 Daren was born in New York and moved to Hong Kong when he was five, where he lived for 12 years. In 2019, he moved to Atlanta, GA to attend Emory University, where he received his BS in Biology with a minor in Anthropology ('23). At Emory, Daren worked in Dr. Yang's lab, where he investigated ferroptosis and neurineural invasion in pancreatic cancer cell lines. In the Bando Lab, Daren is studying the cellular consequences associated with TP53 reactivation in Diffuse Midline Gliomas, with the goal of identifying therapeutic strategies.
Fun fact: Daren has two Shiba Inus names Kuro and Bolin whom he loves very much. He also has a twin sister!